The Undefeated Football Team
35-0 
Watch This Summary Video Of The Undefeated Rockets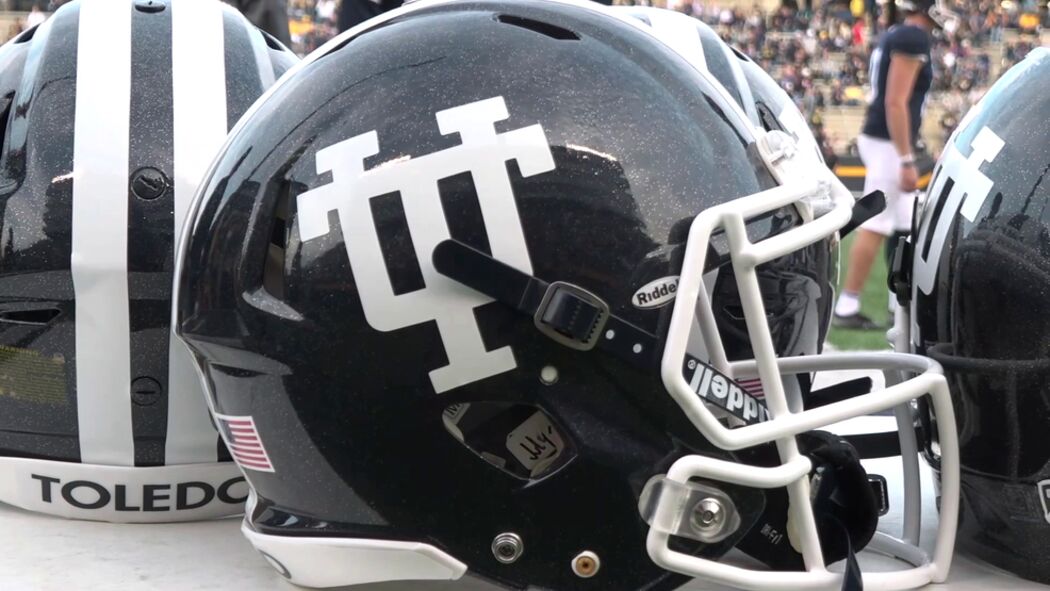 The Undefeated Rockets record is the 5th longest in NCAA football history…but the longest in modern NCAA history. Twenty-years ago Miami came close but couldn't break the Undefeated Rockets record.
1. Oklahoma (1953-57) 47
2. Washington (1908-14) 40
3. Yale (1887-89) 37
4. Yale 1890-93) 37
5. Toledo (1969-71) 35
6. Miami (FL) (2000-2003) 34
7. Penn (1894-96) 34
The defense was agile, mobile, and hostile. It was led by Gary Hinkson, Tom Duncan. John Niezgoda, Curtis Johnson, Jim Rance, Jim Tyle, Bob Rose, Steve Schnitkey, and All-American Mel Long who had returned from Vietnam to join The Rockets. Mel was inducted into the College Football Hall of Fame in 1998.
The offense had weapons on the ground and in the air including Tony Harris, Dick Seymour, Don Fair, Charles Cole, Joe Schwartz, Glyn Smith, George Kiem, Jeff Calabrese. The lineman protected Chuck on passing downs and led him down the field when he ran. Tight End and now Chairman of the Board of Trustees for The University of Toledo Al Baker is still leading by example.
The special teams helped keep the win streak alive with last minute field goals by Ken Krots who saved the Bowling Green win with no time on the clock. Kick-offs by Jeff Siek buried opponents deep on their end of the field.
The coaches – – Frank Laterbur, Jack Murphy, Ducky Lewis, Charlie Snyder, Dave Hardy, Sil Cornachione, Dan Simerall, Jim Flynn, John Nemec, Don Wiper, and Roger Merb and many others created a winning environment and displayed courage during a difficult time in American history.
1971 Undefeated Rockets (35-0)

Undefeated Rockets In The College Football Hall of Fame
Mel Long entered the University of Toledo as a Vietnam War veteran, a Marine with combat decorations. He left with a reputation as the greatest lineman in the history of the Mid-American Conference. He stood 6-1, weighed 230, and played defensive tackle.
Toledo led the nation in defensive statistics all three years. Toledo won the conference all three years. The 1969 team went 11-0 and beat Davidson 56-35 in the Tangerine Bowl. In 1970, the record was 12-0 with a victory over William and Mary 40-22 in the Tangerine Bowl. And in 1971, it was 12-0 (giving Toledo a 35-0 record for 3 years) and victory over Richmond (28-3) in the Tangerine Bowl.
Long made All-America in 1970 and 1971, a consensus choice the last year. He played two years for Frank Lauterbur and one for John Murphy. Then came four years with the Cleveland Browns, followed by a career as foreman in an oil refinery. Long came to Toledo after serving in the Marines. While in Vietnam, he won numerous combat decorations. Mel played alongside College Football Hall of Famer Chuck Ealey during his time at Toledo.
The signal caller for the best run in Toledo football history, Chuck Ealey never lost a game in his three seasons as the Rockets' starting quarterback. The NFF Veterans Committee selection becomes the second player in school history to enter the College Football Hall of Fame.
 
Named a 1971 First Team All-American, Ealey went a remarkable 35-0 as Toledo's starting quarterback. The three-time MAC Back of the Year became the first player in conference history to receive votes for the Heisman Trophy, tallying 168 points for an eighth-place finish in 1971. A three-time First Team All-MAC selection, Ealey led the Rockets to three consecutive conference titles. He guided the team to three-straight Tangerine Bowl victories, earning MVP honors in all three games.
 
A 1971 team captain, Ealey finished his career as Toledo's all-time leader with 5,275 passing yards and 45 touchdown passes, both marks that still rank in the top 10. In both 1970 and 1971, he received the team's Jim Nicholson Award. Voted No. 1 on Toledo's All-Century Football Team, Ealey is one of just four players to have his number retired by the Rockets. The Portsmouth, Ohio, native played alongside College Football Hall of Famer Mel Long during his time in the Glass Bowl.